Long time, no post. I've moved my logging to Letterboxd (letterboxd.com/JaySnap/). As someone who used to have a few dozen MS Word documents with lists of movies in various orders on various topics, Letterboxd's list and ranking features are basically a godsend. But there's no blog feature, so I thought I'd blow off the dust on this old site for the end-of-year wrap-up.
I didn't get to see a ton in theatres this year, for incredibly obvious reasons. I might even be overrating a few here just because they did manage to sneak in to that pre-pandemic period or that brief moment last summer when things seemed to actually be OK and you could go experience Tenet the way it was meant to be seen (with a group of equally confused people). Partially because many major studio movies were pushed back, none of the top movies of last year were really what we think of as big-screen experiences. But that brief window where I saw the cow from First Cow slowly moving down-river and think to myself, "that's a nice cow": cinema. I'm worried that movies like these, the smaller movies that make every year breath but especially 2020, won't ever get that opportunity going forward.
There were tons of great movies in 2020. I have my full ranked list of Letterboxd (letterboxd.com/jaysnap/list/2020-movies/), and since these lists constantly evolved, I won't write out a ranked Top Ten here. But here are a few I'd really like to highlight, in the form of some new categories that the Oscars might want to consider for next year
---
The Platform recieves the Snowpiercer award for Best Obvious Metaphor
The Platform belongs to a certain class of movie that I can't get enough of: movies that unblinkingly bend reality to make a (usually political) point in as blunt of a fashion as possible (think Snowpiercer, High-Rise, The Lobster, and maybe even The Hunger Games). The Platform's towering prison is ludicrous, and its screed against greed is about as subtle as a bag of bricks. But the whole damn conceit is clever, especially when it brings in folks who volunteer for the system and puts them in conflict with those who have no choice. Enjoy with a nice panna cotta.
The Platform is on Netflix
---
Nomadland and Dick Johnson is Dead share the award for Best Blurring of Reality
Documentaries are never truly impartial documents. The presence of the camera and crew is going to distort the story that we see. In Nomadland, Chloe Zhao beautifully weaves non-professional actors telling versions of their real-life stories into a fictional composite narrative. So many of its best moments have Frances McDormand's fictional Fern almost taking an interviewer role, learning about the beauty that people like Swankie have experienced through their own words. Meanwhile, Dick Johnson is Dead sees documentarian Kristen Johnson try to stave off reality by giving her father the end he deserves, rather than the one reality seems to have in store for him. There's nothing impartial about filming your own father getting crushed by a falling air conditioner, but its an incredibly honest, if not very odd, way to approach the subject.
Nomadland is on Disney+, Dick Johnson is Dead is on Netflix.
---
Color Out of Space receives the award for Best Terrifying Mutant Thing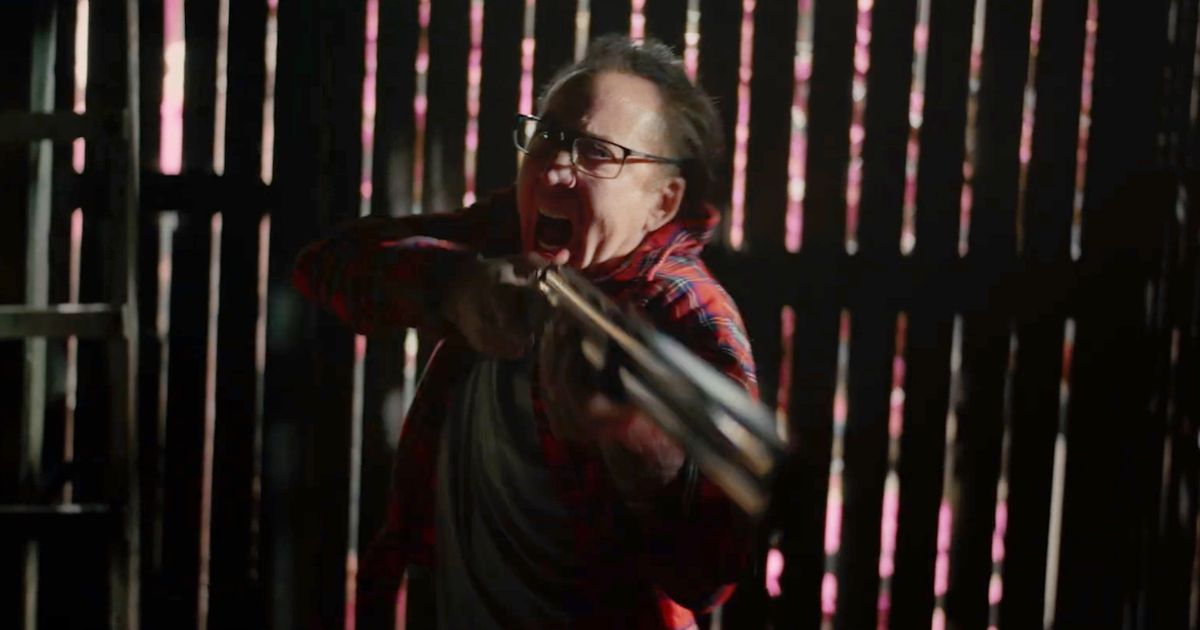 Color Out of Space plays with our perception of a Nicolas Cage performance. While everyone else seems to transform in unfamiliar ways when they come in contact with the alien, um, stuff, Nathan Gardner transforms from a hopeful dorky dad into, well, Nicolas Cage. But here's not the most terrifying mutant creature: that goes to Nathan's poor, beloved alpacas. I dare not say more.
Color Out of Space is on Netflix
---
Da 5 Bloods receives the award for Most Glaring Oscars Snub
Where the hell is Delroy Lindo's Best Supporting Actor nomination? Da 5 Bloods is Spike Lee back on top form, a little messy as usual but completely impossible to ignore. The biggest reason it holds together is Lindo's performance as Paul, a broken Vietnam vet who "sees ghosts" and has lost all sense of trust in systems and his comrades. He's on the verge of snapping from the second he gets off that plane, but Lindo finds a sympathetic character through all the neuroses while still making those winding monologues captivating. I loved Da 5 Bloods more than most, ranking it near the top of what Spike Lee films I've seen, but it doesn't work at all without Lindo at the centre.
Da 5 Bloods is on Netflix
---
On the Rocks receives the award for Best Use of Bill Murray
Very few directors know what to do with late-career Bill Murray. Wes Anderson has maybe been the most prolific, by re-inventing his persona out of whole cloth. But Sophia Coppola, first with Lost in Translation and now with On the Rocks, has been the only one to really meld the old Bill Murray with the new, finding entertaining and melancholy ways to portray what someone like Bill Murray might actually have grown up into. On the Rocks got a bit lost in the year, partially due to being on the little-used Apple platform and partially because of the central plot being a bit slight. But on the edge of that plot, Bill Murray gives his best performance since, well, Lost in Translation, and even gets to do a bit of lounge singing again.
On the Rocks is on Apple TV+
---
The Vast of Night receives the award for Best Long Takes
Long takes are a bit passé these days, after Birdman kinda stretched our patience for the whole conceit a few years back. But at their best, they can give us a real sense of a place. The Vast of Night's first long take is almost easy to miss, given how naturalistic it really is, structured a bit like a Sorkin-esque walk-and-talk to bring us into its faux-50's vibe. The second is flashier, providing a sense of urgency and a sense of space and distance to a race against time. Importantly, both of these happen early in the film, so when strange things start adding up, we know the town like the back of our hand.
Also a nominee for Movie Most Likely to Make Me Want to Be a Switchboard Operator.
The Vast of Night is on Amazon Prime.
---
Bad Education receives the award for Best Use of the Human Face
Hugh Jackman is absolutely astounding in Bad Education, but if we could get specific, Hugh Jackman's face is astounding in it. He establishes himself here as almost a Jim Carrey-esque rubber man, but in service of a character who has to put that on himself. His character, superintendent at a high-performing New York school district, has to deal with catering to the ultra-rich while he straddles the upper-middle/upper class divide. In a slippery movie, Jackman is the most slippery element, but he also makes it possible to understand people who launder money from the school system as products of a deeply selfish system.
Bad Education is on Crave.
---
Palm Springs receives the award for Best Trip to Equatorial Guinea
He made it there once! Also easily the funniest movie of the year. Somehow the Groundhog Day formula has a lot left to offer.
Palm Springs is on Amazon Prime
---
Sound of Metal receives the award for Best Use of Donuts
No disrespect to Nomadland, but I'm rooting for Sound of Metal tonight, which is just a beautiful movie about acceptance. At a certain point, Riz Ahmed's Ruben smashes a donut out of frustration, and hastily tries to reassemble it. Without putting too fine of a point on it: we are all that donut. It can't always be put back together.
Sound of Metal is on Hoopla
---
Bacurau receives the award for Most Ludicrous Mid-Movie Shift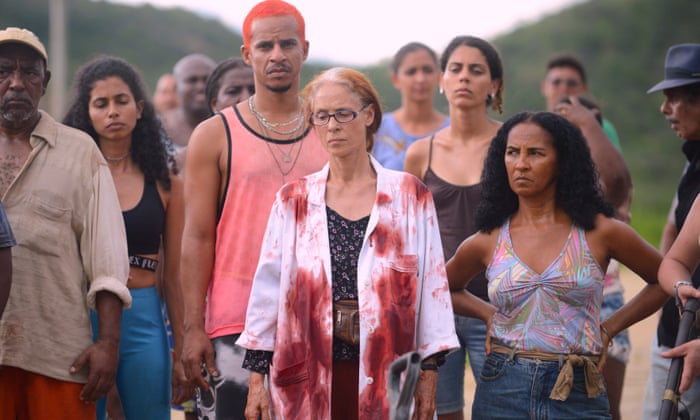 Bacurau is a beautiful drama about a small town in Brazil reeling from the death of a controversial matriarch, until it becomes about how it takes a village (and a lot of bullets) for a culture to keep its identity. The details of that shift are best experienced in real-time, but they only work because of the ground work done in the first half. A straightforward drama about the town of Bacurau would likely have gotten awards buzz. The strange genre-mashup we get is a unique and wild ride.
Bacurau is available to rent on YouTube
---
First Cow receives the award for Best Cow
Look at that cow! Who's a good cow? You're a good cow, yes you are.
First Cow is on Crave
---
Honorable mentions to His House, a deeply disturbing refugee horror movie, and Possessor, Brandon Cronenburg's announcement of himself as a talent in his father's footsteps.